HAVE YOU SEEN IT NEAR SPONARS?
Mrs Mac's Cross is a cross made with daffodils, planted on a hillside in Kosciuszko National Park on 13 December 1978, opposite the ruins of the Hotel Kosciusko.
It is approximately 4m wide, by 6m long, and appears to travellers on the nearby road in spring as a golden cross on the hill side.
For a few weeks in late spring each year, passers-by on the road from Jindabyne to Smiggin's Holes in the Kosciuszko National Park see on a hillside still brown from newly melted snow, a cross of gold. Obviously not a natural formation, they wonder how it originated.
The story began in the days before the Perisher Valley was a tourist resort – when only the Government Tourist Bureau's Hotel Kosciusko and the Chalet, 17km further along the road to the Summit, constituted the total built-up area.
When the Hotel Kosciusko burnt to the ground in 1951, all that remained that was habitable (and I use the term loosely!) was a barracks from pre-Hotel Kosciusko days, the shell of the four story staff quarters, the stables and a vast corrugated iron shed.
To keep the amenities of the area going, a staff of stalwarts moved into this barracks and the shed was converted into a bar ("a regular bloodhouse" as one Sydney newspaper report branded it in the early days of the Snowy Mountains Authority Scheme, a ski-hire room and a tiny primitive post office.
The postmistress, Mrs. Minnie McManus, became a legend as the only contact for the press, radio and television wanting snow reports (this was decades before mobile phones, internet or even dial phones!).
During the summer, activity waned. Mrs. McManus, always a lover of flowers, began to transplant daffodil bulbs from the clotted border of what had once been the croquet lawn of the gracious old Hotel Kosciusko.
Little clumps appeared around the general area, but who thought it would be nice to make something really eye-catching.
The idea of a cross as a possible "drive-safely" inspiration came to her. So during the summer, she trudged across to the hillside with baskets of bulbs and began her project.
The next year, her husband died and the idea of making the cross a memorial to her beloved Bert replaced the original rather nebulous plan.
Each year as the bulbs multiply, the cross becomes more and more golden and though "Mrs. Mac" left Kosciusko area in 1967, it is only for the last few years that the cross has been remarkable. Mrs. Mac died in 1977.
There are now many legends about the origin of the cross of daffodils. Just to put the record straight, it is, as the local people know, "Mrs. Mac's cross." Story thanks to Karen Austin and last 2 pictures thanks to Jennie Mooney.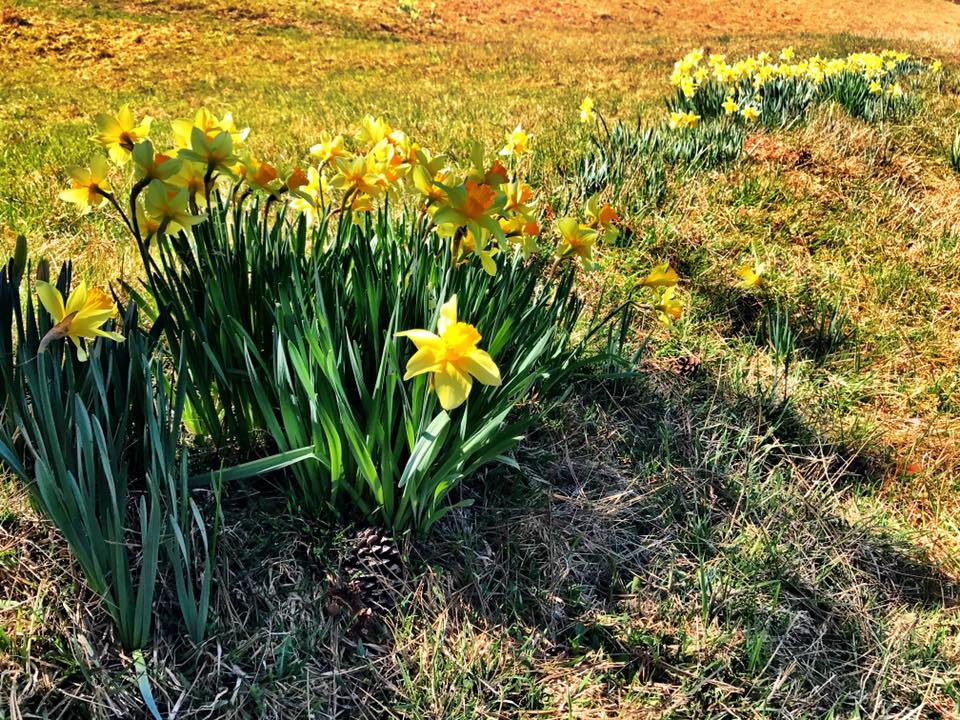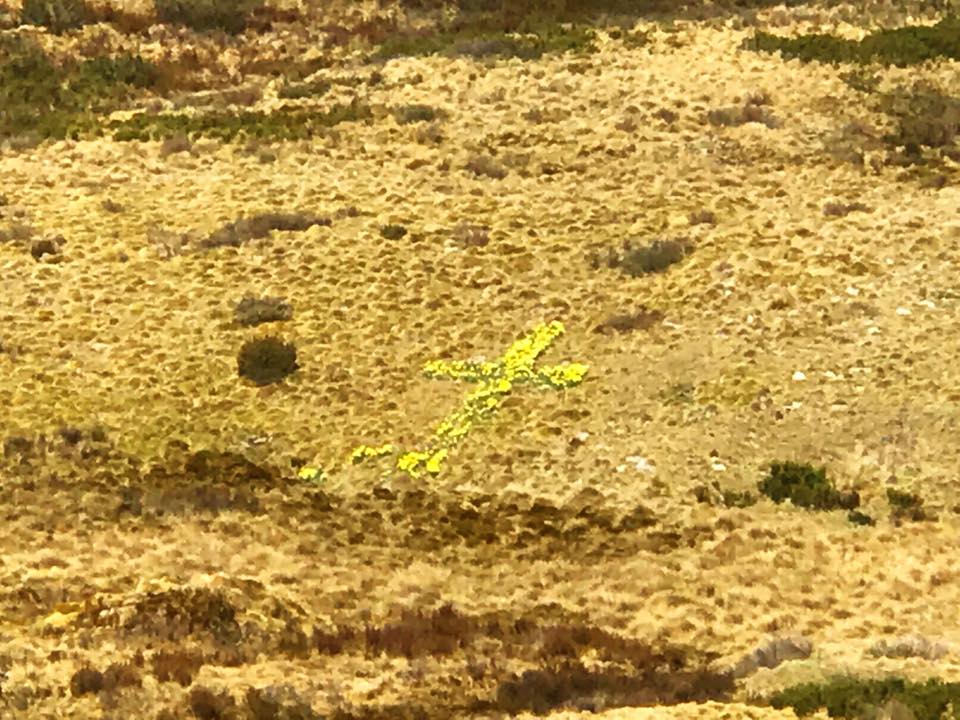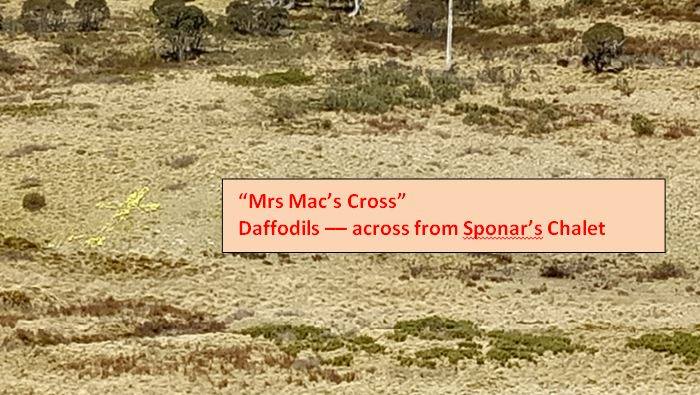 Jack Eden donator of the surf images in basement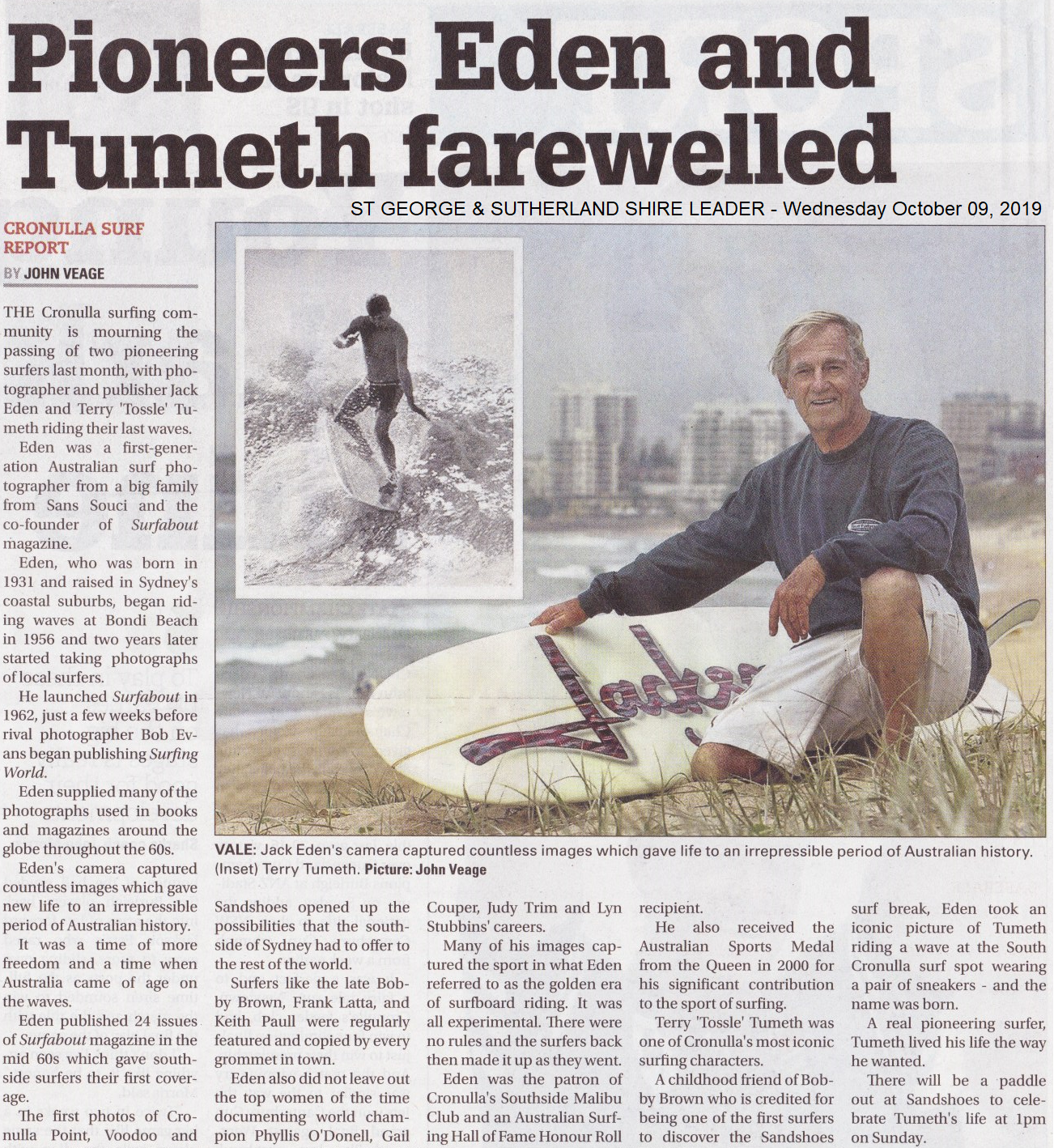 Redwoods first brochure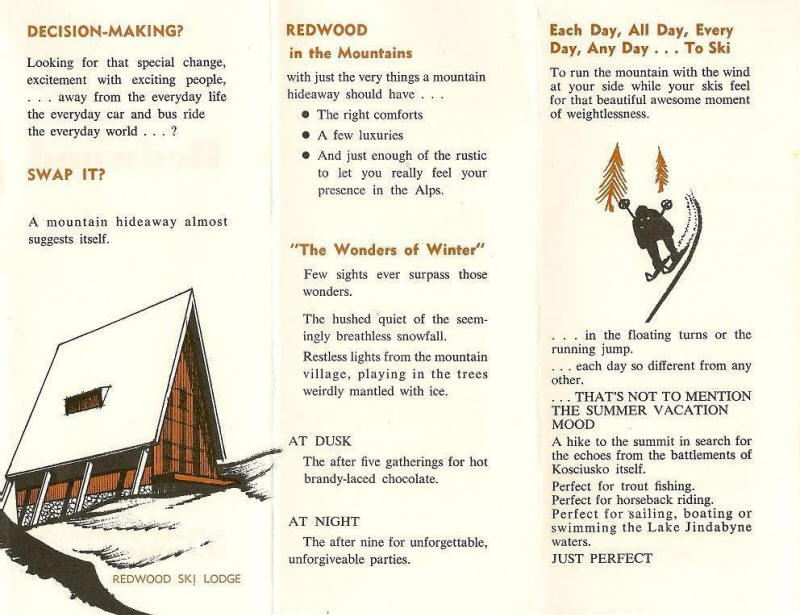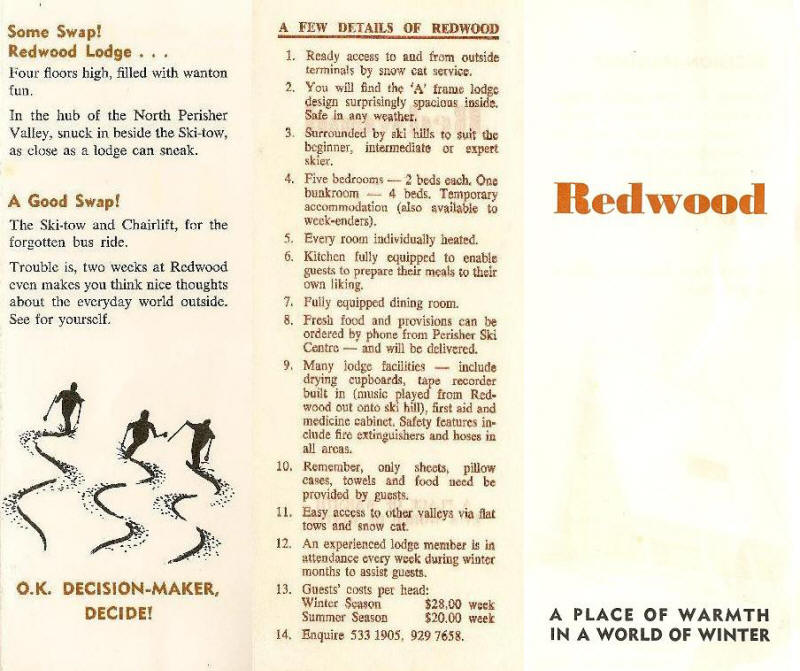 Construction Details by Donald Johnston (PHS)
PERISHER VALLEY
LODGE/BUILDING NAME:
North Perisher Valley Precinct
REDWOOD SKI LODGE
ROAD NAME: Perisher Creek Road
CLUB FORMED: 1963
LOT No: 131
LODGE BUILT/OPENED Summer 1964/June 1965
LEASE No: MTR 5239.5706
ARCHITECT/
DESIGNER:
1963 K. McCutcheon Designer
1981 Donald Johnston Architect
1990 Wayne Brighton - Arch. Designer
NPWS BUILDING FILE No:
BUILDER
1964 Membership built - Keith McCutcheon Project Manager
1981 Fire upgrading - members - Donald Johnston Project Manager
1990 Bob Taylor, Builder/member and fellow members
NPWS SKI HERITAGE STUDY FILE No 661
CONSTRUCTION
'A" frame construction on a granite base.
NPWS 2008 MAP TITLE: Perisher Valley
No. OF LEVELS
3
NPWS MAP LOCATION No, 97
ARCHITECTURAL STYLE
"Alpine" Source 5
CURRENT LEASE HOLDER
INTACTNESS LEVEL
DATES OF CHANGES
"B" Source 7
1981 Fire upgrading, 1990 major additions
ORIGINAL LEASE HOLDER
as above
CULTURAL HERITAGE SIGNIFICANCE LEVEL
SCHEDULE No. Schedule 2 Source 5
FOUNDING PURPOSE / USE: Private ski lodge
FOUNDING PERSONS: Keith McCutcheon, Warren Wearne and Lyn Shaddock Source2
FOUNDING MEMBERS
CURRENT MEMBERSHIP
NUMBER of BEDS
30
36
12
HISTORY- Building / Membership / Usage
Following his membership and construction of Ben Bullen Commercial Ski lodge in  South Perisher, Keith McCutcheon initiated the concept with fellow founders of starting a new private lodge.
The North Perisher site was approved by KSPT in 1964 after formal formation of the 1963 club comprising many family members and friends at 50 Aust. pounds per membership share.
A majority of the construction was prefabricated at Keith's home in Kogarah Bay.
Construction commenced April 1964 using imported Redwood and Douglass Fir for the A frames due to their length.
The adoption of the Redwood name was due to the extensive use of Redwood as internal and external lining boards.
As road access was blocked at the end of the 1964 winter season , some materials were floated down Perisher Creek by John Barter.
Keith McCutcheon  made 64 trips to the lodge during construction in his1961 FB Holden Station Wagon.
The lodge underwent Fire upgrading changes in 1981
Major extensions to the South and East occurred in 1990 designed by member Architectural Designer, Wayne Brighton executed by member Bob Taylor, Builder.
Source 2
MEMBERS  ACHIEVEMENTS / LOCAL CONTRIBUTIONS
Social / Recreational / Cultural / Administration
The lodge is now in part in its 2nd generation of ownership and it's 3rd generation of usage by grandchildren of founding members.
Donald Johnston, a founding member , was an undergraduate Architectural employee of Brewster, Murray and Partners ,Architects between 1958  and 1963  and was involved in the design, documentation and some Contract Administration of many of the Lodges in the Perisher area .
Those being The  Smiggin Holes Hotel ,Lodge 21 (Smiggins), Boonoona Ski Lodge  and the then Kosciusko State Park Trustees' VIP Residence at Waste Point.
Such an association saw him commence skiing aged 17  in 1958 ( driving to the Snowy in his 1957 Fiat 500 Bambino convertible ), his continuing involvement with the area and now his interest as a  committee member of the PHS .
Source 3
The current quality of the Lodge fabric, the comfortable interiors and facilities have been achieved solely by the continued efforts of Lodge members over the many decades .
The lodge will celebrate its 50th year of formation in 2013.
The lodge prides itself on never having TV in the lodge
Source 3
Founding member John Barter built his own unique articulated Skidoo which helped with members and Supplies access in the early years, before RTA/ NPWS regulations.
Source 3
PERISHER RANGE
RESORT AREAS
HISTORICAL DATA BASECopyright 2010 Perisher Historical Society
RESOURCE SHEET N0. RS 97
Abbreviations;
KSPT Kosciusko State Park Trust ( Statutory Authority 1944-1967 )
NPWS National Parks and Wildlife Service 1967 - present
See supplementary sheet No. SRS 97 for photos,etc.
Updated July 2010 by PHS author Donald Johnston, Architect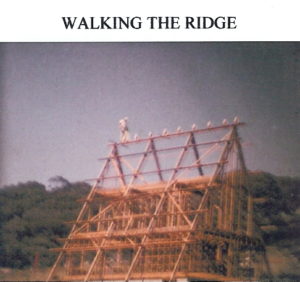 1 PHS photo file Feb 2009-03-09
2 Club files
3 Personal History files / Oral History
4 NPWS schedule of Leases
5 NPWS Ski Heritage Study 1998
6 NPWS Ski Heritage Database file
7 NPWS Ski Heritage Appendix 2 club contact
(Reference 1)
Donald Johnston johnston@acenet.com.au
Club ref. doc.
Source 2 "Memories and Stories" by Keith McCutcheon
Source 9 John Barter's personal photographic collection
Perisher Range Resort Areas Historical Data Base
Copyright 2010 Perisher Historical Society
Supplementary Resource Sheet No. SRS 97
See Main Resource Sheet No.RS97
Updated July 2010 by PHS author Donald Johnston, Architect
(Source 9)